Over 10 years ago, a movie was released that redefined cinema to me. Christopher Nolan took my favourite superhero and my favourite supervillain and created one of the most thrilling, exciting, well acted and endearing cinematic films of my life. Nolan took the characters from the pages of a comic book and put them in a familiar world, making their trials, their relationships and their humanity all the more real. For ten years The Dark Knight has been my favourite film to which I compare all other movies to.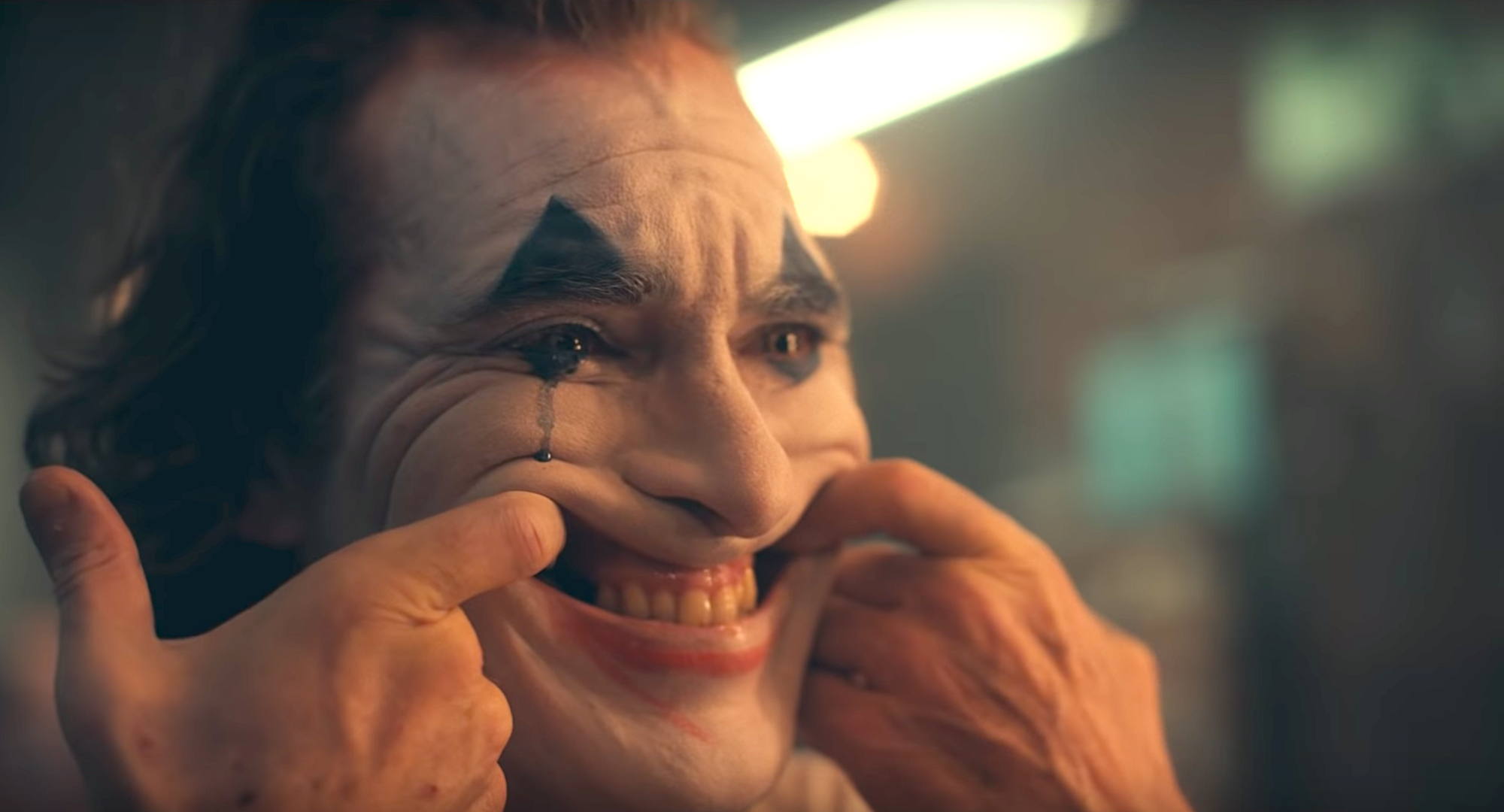 My obvious fascination (well…obsession) with the relationship between Bruce Wayne and Batman, Batman and the Joker has only gotten stronger. Through yearly rewatches of the film, midnight premieres of the sequel, watching the animated films, and playing the Arkham Series on every difficulty 5 times over, my interest in the Joker as a character has continued to grow. When my wife and I got married we had a Batman cake topper. I wore batman underwear. I own an actual piece of physical film that Nolan shot Batman Begins on. You get the idea. Big fan. So you can imagine my excitement when I first saw the trailer for Joker drop. Expectations can go either way though. Sometimes we want something so badly that it can never live up to our expectations. Nothing could ever be better than The Dark Knight, right?
Yesterday my favourite movie of 10 years became my 2nd favourite movie of 10 years. Todd Phillips' Joker is a start to finish, undeniable masterpiece. In every meaning of the word. No matter how you look at it. It is not only the perfect Joker origin story, the perfect DCU film, but it's just the perfect movie. An absolute piece of cinematic genius. I couldn't have wanted more in a piece of art.I am only going to briefly break down my thoughts on the main elements of the film, without going into too much detail because I implore you all to go see it at least once at the movies and see for yourself.
The film follows struggling comedian and clown Arthur Fleck as the world smacks him in the face, both figuratively and literally, as he tries to find even the smallest glimmer of hope and happiness in a beautifully depicted and tragically recognisable Gotham City. Everywhere Fleck turns, he is met with the worst of humanity. Struggling with his own mental health issues and having nothing positive to keep him going, we see his inevitable demise into the clown prince we all know and love. Let me warn you, this is a bleak story. There are no moments of hope or a chance to catch your breath. This is a depressing, soul destroying look at the worst aspects of humanity, a shocking and sad result of the oppression and humiliation of lower class citizens in a society where without wealth you are worth no more than the rats that plague the streets. These are real world political and societal issues held under a filmic magnifying glass and exaggerated for effect. Gotham is just New York City with every ounce of hope drained out of it. This is our world but a step further. This is a warning of a direction we don't want to keep heading in.

Director Todd Phillips, most famous for The Hangover movies, proved with War Dogs that there was more to him than lad comedy. Here he is at the top of his game. The direction is a highlight of the film and when combined with an Oscar worthy performance from Joaquin Phoenix in a career highlight as Fleck, the journey is an edge of your seat, upsetting and powerfully confronting 2 hours. Every shot that Phillips uses takes us further into the declining mind of Arthur Fleck and how this society cares very little for those without money, let alone those with misunderstood mental health issues. Phoenix's performance is nuanced, every flicker in his eye, or the corner of his mouth telling a complete story of a lost, sad and completely hopeless aspect of society. Ledger deserved the Oscar. Phoenix even more so. From a writing perspective, the dialogue is stunning. I don't want to share all the best bits of dialogue but as someone who suffers from mental illness myself, I found this line particularly relevant – "the worst part about having a mental illness is people expect you to behave as if you don't" which is a shockingly relevant indictment on our societies continual misunderstanding of mental illness.

The soundtrack is the next hero of this film. Hildur Guðnadóttir might not be a name you recognise but she has a back catalogue of exceptional score composition, including the HBO miniseries Chernobyl. What she has masterfully created for Joker proves that she is at the top of her game and her genius composition is as important player here as Hans Zimmer's score for Dunkirk. Every perfect visual moment of Joker is matched by this rising and anxiety inducing score as though all the elements come together in a terrifying and unnerving dance as the film reaches it's shocking and frightening conclusion.

Joker is not for the faint of heart. It is a genuinely frightening portrayal of a society that is scarily familiar. But beyond all that – it's a piece of cinema and I think it pays to remember that. Despite all it's real world aesthetic this isn't a documentary. It is a journey that is created to show the birth of one of the most iconic fictional villains of all time. It is not responsible for the actions of the world that watches it. I know people may struggle with the suggested link between mental illness and villainy but in my opinion it never seeks to glamorise the actions of the Joker and while it may raise controversy in regards to it seemingly humanising or justifying the Jokers actions, it pays to remember that is a story told from the Jokers point of view and noone is a villain in their own storyline. Not even Joker.

It is a challenging and shocking watch that is easily the film of the year, or in my opinion, the film of the decade. If it is not nominated for Best Picture, Best Director, Best Original Score and Best Actor at the Oscars I will not only be very suprised but I will be extremely disappointed
-Ashton Brown
Comments