It's been way too long since I've sat down to write a review. I genuinely am struggling to remember where to start. I think I usually start with some personal little tidbit about my prior knowledge of the film or what I had for breakfast that day, so let's start there.
On Wednesday the 11th of November, I got up, ate some toast and went to work. At some point (before my arrival at work) you can assume I also clothed myself and brushed my teeth. By the end of the day I had a rather terrible headache and I just wanted to crawl into bed and binge watch a K-drama. But I pressed on, as I was meeting up with a good friend and after seeing Happy Death Day, was actually reasonably pumped about Freaky (same director). I came out of the cinema headache-free and FULL of energy.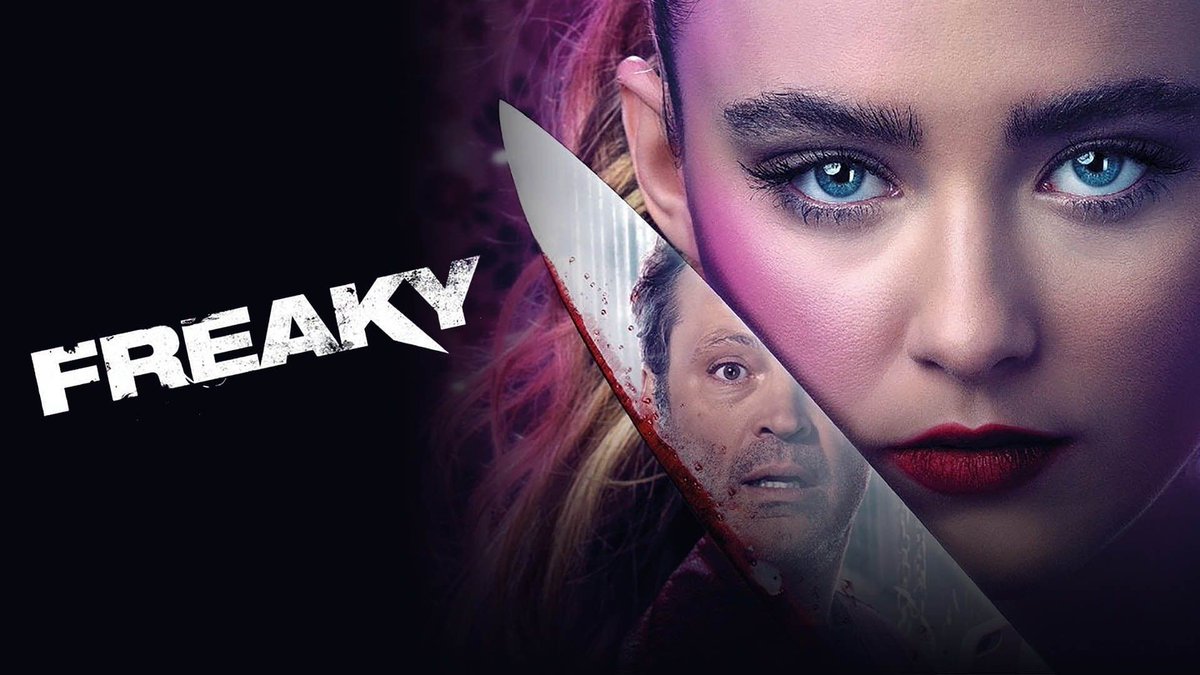 After swapping bodies with a deranged serial killer, a young girl in high school discovers she has less than 24 hours before the change becomes permanent.
The overall tone of Freaky was all over the place. At times it felt like a classic 90s horror flick like Scream or I Know What You Did Last Summer, then it would jump to moments of feeling like it belonged on the Nickelodeon channel or was about to reveal it was actually a Tiktok video in disguise. THEN there was the gore. I really wasn't prepared for the graphic, graphic violence. I don't want to spoil any of it for you, but there's a lot of pretty horrific and varied murders and the camera REALLY sticks with the action. As gore isn't really my cup of tea and I certainly was expecting more of a Happy Death Day level of graphic-ness, I found it took me out of the otherwise super fun experience of watching the movie.
That, alongside a few problematic things characters say throughout the movie, are basically my only complaints. Even though it's filled with almost every horror trope you can think of, Freaky is such a vibrant mix of comedy and insanity that it somehow works in it's favour. But SHEESH, teenage girls doing the dumbest shit in horror scenarios is still annoying as HECK.
Now, the highlights. If you loved Jack Black being a teenage girl in the recent Jumanji, then you pretty much have to watch this movie for Vince Vaughn as a teenage girl, alone. He is SO GOOD. In one particular car scene, he's a little too good. My friend, Laura, was loudly and verbally cringing along with me (in a good way). A real scene stealer that Vince Vaughn. To be honest, there really were no weak links in the acting department. All the characters were pretty strong and it was refreshing to see how many of them looked like actual teenagers instead of 20 something year old models. Especially super wholesome highschool crush material, Booker, played by Uriah Shelton. I hope he never lives down this video:
Was it actually scary? At times! I would definitely summarise it more as extremely entertaining rather than scary, but it definitely had it's moments! It was decent at building suspense when it wanted to, and if you hate gore as much as I do, knowing when a gruesome death is on it's way will be enough to fill you with dread.
Basically, if you loved Happy Death Day and you don't mind the gore being kicked up SEVERAL notches, then you're going to absolutely adore Freaky. It's at least 2 tonnes of fun, graphic violence and hilariousness with the odd genuinely frightening moment sprinkled in for the final touch.
Comments