The highly anticipated sequel to one of Disney's greatest creations, Frozen, is now available to add to your collection! It achieved the biggest opening weekend earnings of all time for an animated movie, beating out Toy Story 4. While Frozen 2 hasn't been critically received as well as it's predecessor, everyone knows that critics are poopheads sometimes – so really that should be meaningless to you.

Personally, I loved it. Maybe I loved it because it was a fresh direction for the characters, maybe I loved it because it covered some heavier topics or maybe I just loved it because it meant I didn't have to watch Frozen with my three-year-old for the a millionth time.
The best thing about adding Disney flicks to your home collection of Blurays/Dvds/Digital files, is that they actually put a crap-tonne of effort into the special features. Frozen 2 is no different. Here are 8 reasons it is worth purchasing Frozen 2 ASAP:
1. Outtakes – Laugh along with the cast of Frozen 2 as they record their lines, sing their songs and have fun in the recording booth.
This isn't silly animated 'outtakes' with the characters, this is real behind-the-scenes blunders with the cast. None of them are particularly embarrassing or hilarious, but it gives a really solid glimpse into what being a voice actor for a Disney film is like. Seeing Idina and Kristen have little insecure moments when they don't sing something quite right is somehow super endearing and refreshing.
2. Deleted Scenes – Check out a few scenes that never made the final cut.
This includes an Intro from Directors Jennifer Lee and Chris Buck (who are TOTAL Mum and Dad material) who offer a glimpse into their filmmaking process with scenes that didn't make the final cut. They have little chats between each of the scenes and you can really tell how hard it was for them to part with a couple of the scenes. Chris Buck even voices a couple of the characters for a particularly great scene featuring Christoph, Olaf, Anna and Nokk.
The deleted scenes include:
Prologue – A battle rages between Arendelle and the Northuldra while a mysterious figure challenges King Agnarr.
Secret Room – A secret room reveals even more of Anna and Elsa's past, including a shocking revelation about their mother.
Elsa's Dream – Anna's playful glimpse into Elsa's dream takes a dark turn.
Even though Elsa's Dream didn't make the cut, it's cool to see how elements of this scene still impacted the movie in a big way!
Hard Nokks – Kristoff reveals his true feelings about life in Arendelle when the Nokk won't take no for an answer.
This is one of those scenes that could have really changed the whole vibe of Frozen 2 towards the end. It makes me wonder if they're saving this character arc for a third movie or if they just decided to not 'go there'.
A Place of Our Own – Elsa uses her magic to relieve Anna's lingering doubts about their parents' faith in her.
3. Deleted Songs – When it comes to Frozen 2, there can never be too much music. Hear some of the songs that got cut from the final film.
It's weird to watch/listen to these and realise how much work went into them, only to have them cut from the final product. I do however, think they made the right call by cutting them. They cute, but they ain't 'Lost in the Woods' cute.
The deleted songs include:
Intro – Directors Jennifer Lee and Chris Buck revel in the chance to share a few songs that didn't make it into the final film.
"Home" – Anna savors every moment as she wanders through this kingdom she calls home.
"I Wanna Get This Right" – Kristoff wants everything to be perfect before he proposes, leaving Anna to wonder, "Will it ever be just right?"
4. The Spirits of Frozen 2 – Cast and crew explore the Scandinavian and Nordic mythology that inspired the spirits inhabiting the enchanted forest of Frozen 2.
Ok. I'm not going to lie. I fell asleep halfway through this one due to just having done a very long uphill walk with a cranky toddler. I forgot to go back and rewatch it before writing this review. So, here we are. From what I remember, it was fascinating.
5. Scoring a Sequel – Composer Christophe Beck combines a 91-piece orchestra with 30 choral voices to create the compelling score for Frozen 2.
This is really cool to witness! It's crazy how much thought and detail goes into the score. Certain instruments could be used in Frozen 2 that couldn't be used in Frozen, because the characters have matured. Seeing the 40-piece choir sing and harmonious and everything come together is pretty awe-inspiring.
6. Multi-Language Reel
It is what it is.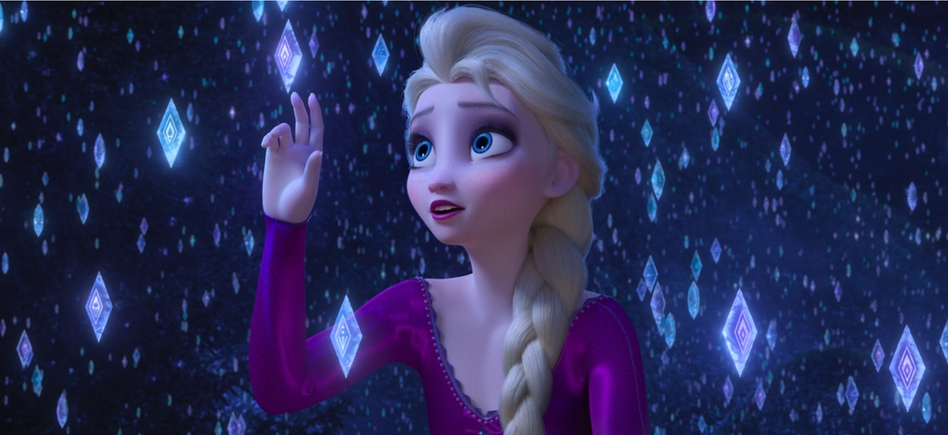 7. "Into the Unknown" in 29 Languages – Hear Elsa's soaring call to adventure in 29 different languages
For some reason I found this really emotional. Like, I actually shed a few tears imagining kids all around the world getting to experience Frozen in their own language with equally beautiful singers taking on Elsa's crazy difficult song.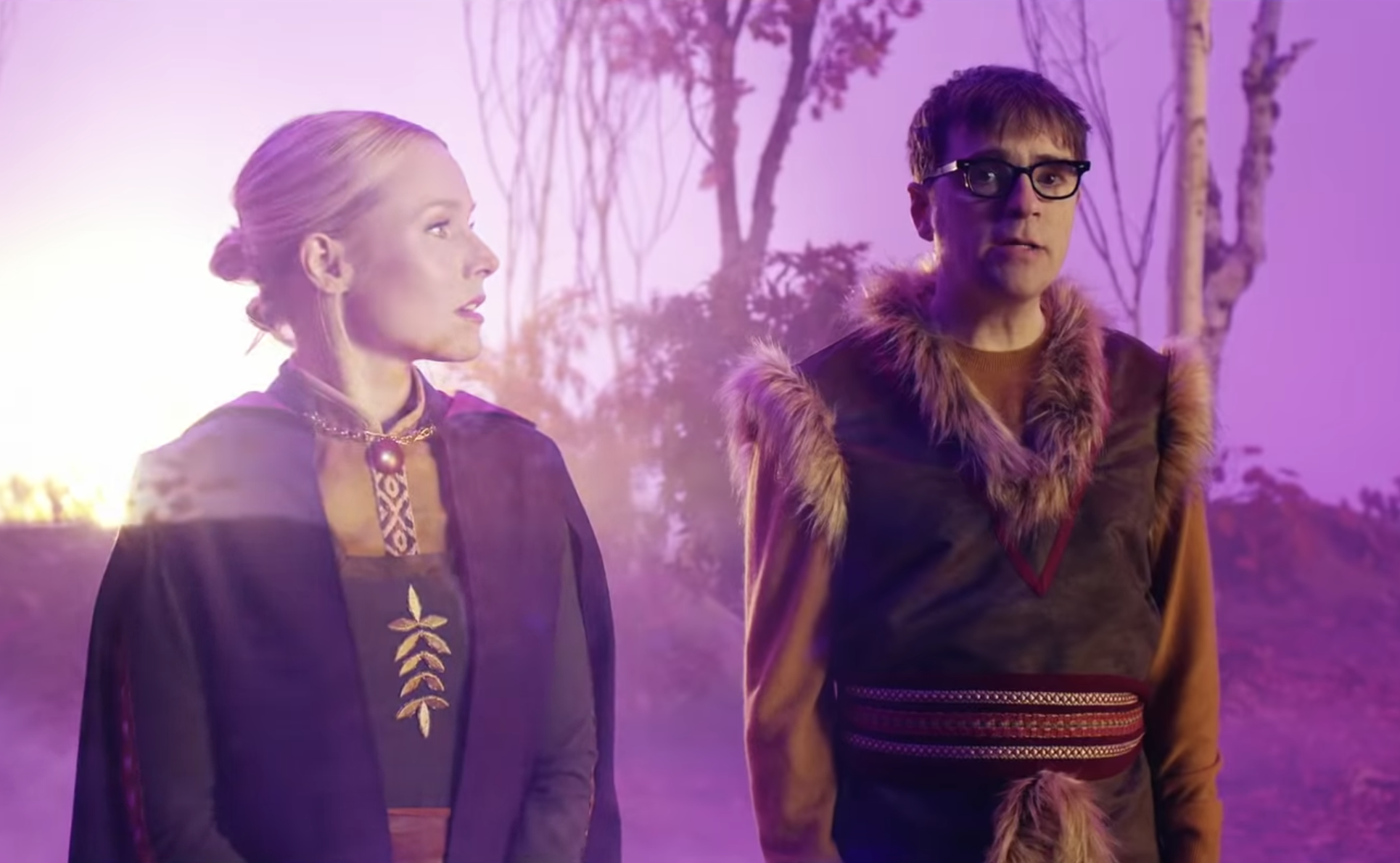 8. Music Videos – Weezer and Panic! at the Disco lend their voices to a few of the soaring melodies from Frozen 2.
"Into the Unkown" (Panic! at the Disco version) – Panic! at the Disco frontman Brendon Urie stars in their version of "Into The Unknown" from Frozen 2.
This version of the song is EPIC. I really really really love it and the music video is pretty cool too.
"Lost in the Woods" (Weezer version) – Weezer puts their spin on Kristoff's epic ballad, "Lost In the Woods."
I think I said 'WTF' out-loud to myself several times while watching Weezer and Kristen Bell in this OUTSTANDING version of the song THAT HAS BEEN STUCK IN MY HEAD FOR DAYS. This alone is worth the money. THIS ALONE.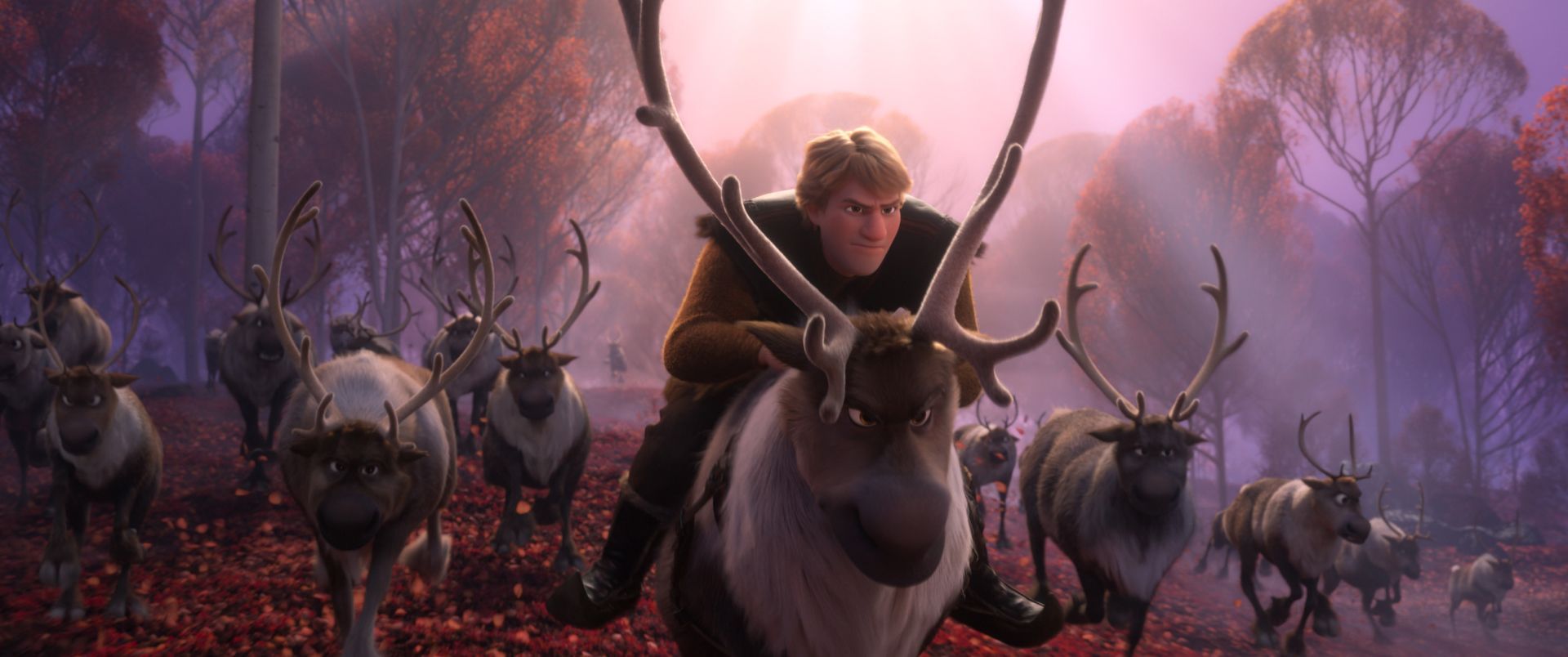 Now on to the Honorable mentions:
Sing-Along Version of the Movie – Sing along with your favorite songs as you watch the movie.
Song Selection – Jump to your favorite musical moments, with on-screen lyrics. Songs include Oscar-nominated "Into The Unknown," "All Is Found," "Some Things Never Change," "When I Am Older," "Lost in the Woods," "Show Yourself," and "The Next Right Thing."
Did You Know??? – Olaf asks us the question "Did You Know" as we discover Frozen 2 fun facts, Easter eggs and tidbits about the making of the film.
Gale Tests – They say you can't see the wind. Only its effects. Filmmakers give it a shot while creating the playful wind spirit, Gale.
Gale Test – A young girl and boy play tag in this fully animated effort to "give personality to something that's invisible."
Hand-Drawn Gale Test – A hand-drawn test to bring the precocious wind spirit to life.
Comments